More than 15 years, Anka Group providing high quality consultancy services in the sector. Our mission is to bring strategies solutions with high standards in order to meet the demands of the clients efficiently in cooperation with our consultants, who are independent, self-motivated individuals in terms of delivering productivity and excellence in the following issues:
CONSULTANCY SERVICES
In general, we have provided high quality consultancy services with our professional consultant team related to the main subject of the company by using most efficient and recently developed methods-tools in order to meet the expectations of our clients in following themes
Animal Husbandry

We have achieved the design and management of large scale greenhouse facilities and dairy product farms, using very high technology in order to increase the output quality, productivity and also to minimize both energy consumption and waste.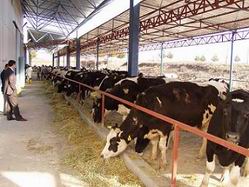 Agriculture
Facilities, methods and tools related to production and process of agricultural crops are other expertise areas of Anka. In addition to this, Anka has not only been working on organic agriculture for many years but also following up following up recent technological innovations about the subject.
Textile
Since 2008, Anka has been providing value added – high quality services in textile sector. While meeting the clients' demands by its highly qualified team composed of experienced senior consultants, we also aim to manufacture textile products by using the most recent technological developments in order not to increase the product quality but also minimize energy consumption and the waste.
Industry
With a view to make valuable contribution to the development of economy both in regional and national level, Anka also leads, operates and manages some projects in terms of increasing the productivity of SMEs operating in every region of the country. While Anka is performing these activities, primarily diagnose the

problems of organizations and bring alternative solutions to these problems. However, Anka mainly aims to train the organization in order to constitute joint working teams. "Hitting the ground running", with professionalism, attention to detail, combined with tight attention to objective performance criteria, budget constraints and delivery targets by highly qualified consultants is the main motto of the company.
Other Services
Regarding construction sector, Anka also provides very valuable services about infrastructure and superstructure of both public and private facilities. In addition to these, it also provides consultancy services related to real estate trading and relevant technical research activities. Another expertise area of Anka is preparation pre-feasibility and feasibility studies related to facilities taking place in tourism sector. Furthermore, operation and improvement of these facilities are some of other subjects of the company. Anka has been achieving all of these activities with highly professional result oriented team very seriously as your SOLUTION PARTNER and it should never be forgotten that having worked across dozens of sectors and many clients, we can often bring strategies that someone too close to their own industry could never imagine. That's where advancement happens.